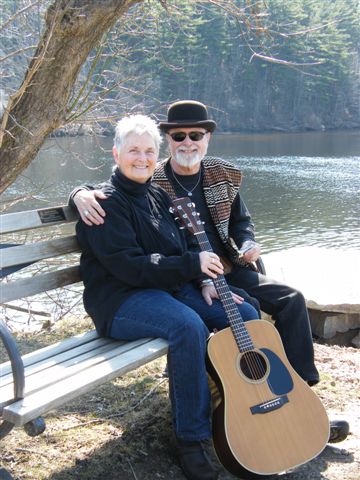 Photo by Judy Leavitt
Click for mp3 of Mike's Run, Bede, Run (3MB)
Click for mp3 of Wooden Eye's Ralphie (3MB)
Click for mp3 of Salt River's Uptown Fred (3MB)
Click for mp3 of Salt River's Horseshoe Pier (3.89MB)
Click for mp3 of Howard and Bullfrog's Southbound Train (3.68MB)
Mike and Beverly Rogers have been performing together for over twenty-five years. The duo offers harmonica workshops: teaching songs, some techniques and providing harmonicas. These workshops are offered at such venues as: Adult Education, Conferences, and private parties. Participants come away with a feeling of accomplishment and self-worth. Mike and Bev also perform in senior centers and nursing homes.
As one-half of Salt River, Mike and Beverly, along with Lee Hosack and Cathy King, have been recognized as "folk singers in the purest sense" (Face Magazine), and have been received with great enthusiasm by audiences of all ages.
Mike also performs with his son, Joe Rogers, in the Americana-Roots band Wooden Eye, as well as touring the New England area with Blues Man "Poor Howard" Stith.
JOIN OUR EMAIL LIST TODAY!
Join Harmonica Workshops Friends, and receive updates on our performance schedule, share information with other fans, and find out about new music.
Just click here and follow the instructions.