Salt River's CDs entitled
Lookin' Back, Reflection and Comin' Home are available online along with sample tracks from CD Baby. Click on the title links or the CDBABY icon, and BUY TODAY!


Salt River, "folk singers in the purest sense" (Face Magazine), consists of Lee Hosack, Mike and Beverly Rogers and Dan MacLellan. They are based in the seacoast area of Maine and perform traditional and original music reflecting the lifestyle and people of New England. Their folk/blues style is accented by their vocal harmonies and Mike's signature harmonica. The group's close friendship and love of music are reflected in their performances and on their CDs "...Evenin' Tide", "Lookin' Back", "Reflection", and the latest release "Comin' Home".
Salt River represented the State of Maine at the 2000 New England Artists Congress in Woodstock, VT. More recent venues include: Prescott Park Arts Festival (last five summers), Market Square Day, (last seven years) First Night (last six years) and Summer Street Concert Series (all Portsmouth, NH). Other concerts includes Hot Summer Nights (So Berwick), Kittery and Eliot Summer Concert Series, Hamilton House Series (So Berwick), Chautauqua (Keene and Portsmouth, NH), Kennebunk, Sunapee, Saco and Auburn Coffeehouses and 2001 NH Governor's Arts Awards Night, VSA Arts NH Concerts in several locations.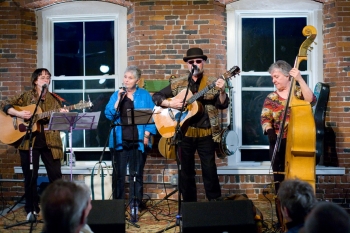 Click for mp3 of Salt River's Uptown Fred (3MB)
Click for mp3 of Salt River's Horseshoe Pier (3.89MB)